Brains.
I don't usually read comics, since they're generally aimed at people with less brains than I have (and my brain is deader than the Twist). But I had to address
Zombie Tales
, from Boom! Studios/Atomeka.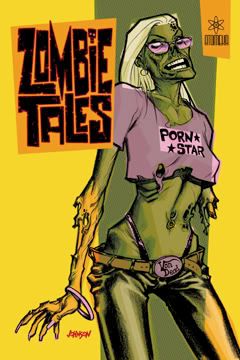 It's a collection of zombie-centric short stories, which is nice, I guess. But it's woefully unrepresentative of the average zombie's lifestyle, which, as I'm sure you well know by now, primarily involves the acquisition and consumption of human brains.
In fact, the
only
depiction of this essential zombie ritual occurs on page 29, and then only briefly, in one panel, with the resultant blood and gore rendered in lamentably tasteful and understated fashion. I mean, come on!! What is the point of portraying brain eating if you're not going to display in nauseating detail the nitty-gritty of the actual juicy, messy devouring of the brains? Sheesh!
I award this comic 11 brains. Which is the exact number of credited creators on the comic's cover, whose brains I will shortly acquire and consume. Mark Waid, Keith Giffen, Ron Lim: you have been warned! I am here to chew bubblegum and eat brains, and I'm all out of bubblegum!!