Brains.
Well, I'm back from vacation, and I brought back my new pet with me: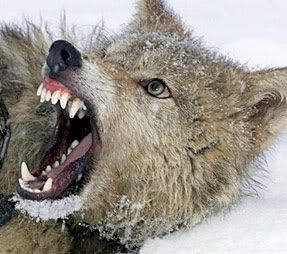 His name is Bub, and he's a zombie dog! Friendly, too. He always politely sniffs your hand before mauling the holy living hell out of you. Good doggie!
Thanks to
Shane
for pointing my way to the
adoption agency
. Can you believe people are giving them away? It's the same old story: they create these wonderful, undead, uncontrollably violent, bloodthirsty, brain-eating hell beasts, and then they decide that they don't make good pets for children. Ridiculous! Oh well, their loss, my gain.
Some of you may recall that I have a
kitty cat
who is also named Bub. I guess I should say I
had
a kitty cat. He doesn't really need the name anymore; new Bub totally ate the hell out of old Bub. Bad doggie! Now who's going to chase all those zombie mice?